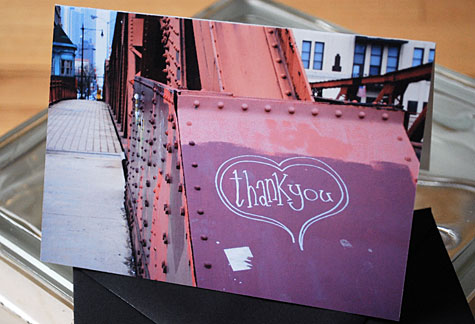 Had enough of blah thank you cards? Then head on over to
Merriment Design
to see what Kathy has come up with! She's created these adorable thank you note-cards from a photograph of the Chicago Avenue Bridge. She's even created a template that you can use to make your very own cards. Now we love all things Chicago, and we think this is a great way to show your appreciation, but we've also come up with some other great ways to use this idea for your next event.
Note: we are
not
encouraging you to go graffiti up your beautiful city. However, many cities do have areas that are designated for urban art expression. (My home-town has
a great wall
for this . . . I'll definitely be creating some works of art for this project next time I visit!) So if you can't find the perfect words already on a bridge (like Kathy did), go grab a can of spray paint and create your own.
Scribble out "You're Invited" for an art-themed kid's party
If your town is famous for an area of graffiti, use different images for escort cards at your wedding
Write the names of your guests on the wall and snap photos to use as place-settings for your next dinner party
Put all the details of your next event on the wall and use the image as a post-card invitation. (Warning: be sure to paint over this when you're done or you may have party-crashers on your hands.)
What about you? Have you ever found the perfect graffiti? Will you use this project for your next event? Tell us about it in an email or a comment!